Take a video tour of the Esfahani Gallery: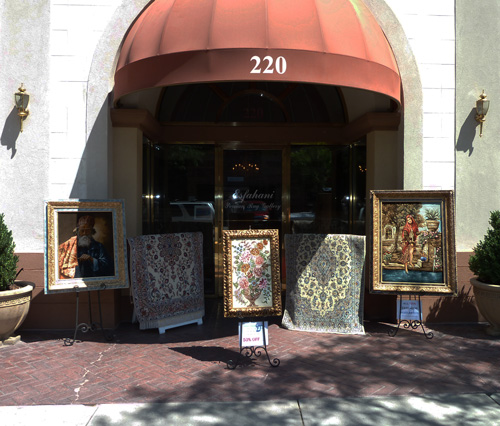 Esfahani Persian Rug Gallery is a family owned and operated business with over 35 years of weaving and business experience in the field, World Wide. We are proud to present only the most exquisite and finest selection of Persian Rugs that will not only hold their price but will increase in value over time. We have dealt in this business in Europe, Asia and the United States, and are now proud to bring our services to Denver Colorado.

We offer restoration and repair as well as cleaning services by the owner who has been not only doing this for over 35 years, but she has actually made rugs herself and whose family has been making Persian Rugs in the Southern region of Iran, near Kashan, for more than one hundred and twenty years.

We offer the most extraordinary services in this business. We have a service in where you can rest assured that the value of your investment in a Persian Rug is not just a fiction. Our return policy states as follows: We give a 100% money back guarantee within the first 7 days of your purchase ( given the rug returns in the same condition as it left ), but it does not stop there, we will give you 100% store credit from 8 days all the way to 365 days, 1 year, ( given the fact that the rug is returned without any damages and appropriate amount of wear and tear ), it gets better, we will give you a 50% store credit from 366 day all the way till 3650 days, 10 years, ( given that the rug is in a reasonable condition).  What we mean by the conditions of return ability is that there are no major stains that are dry rotten, rips and tears, sections with missing pile, etc. So please do not think that we are going to give you a hard time about the condition of regular wear and tear, nor are we going to "nit-pick". 


The most important part of this extraordinary service of ours is that we will honestly tell you whether your rug has increased in Value over the years or if it has kept its value or if you are better off trading it in for the value we are offering you as store credit.

Our second extraordinary service is in regards to the satisfaction of our customers. If you live within a 40 mile Radius and like more than just one rug we will bring out the rugs of your choice to your desired home or office and help you lay them out, ALL AT NO EXPENSE TO YOU. So that you can see how it REALLY looks in your home or office. A Persian Rug looks much better and a bit different in your home or office then in a picture or even in our store. (You must visit our location to be eligible for this service. Due to the proper paperwork that needs to be filled out which will only take 5 minutes.)